The guiding vision of Identity Dental Centre is to welcome patients to a clinic founded on the special bond of the patient-doctor relationship.
This is the vision of a place dedicated to the comprehensive oral health and care of our patients in a safe and family atmosphere. Because every field of dentistry – aesthetic dentistry, implantology, dental surgery, periodontics, prosthetics and endodontics are our passion, which we have been developing for years and with which we have years of experience and forms our professional identity.
Prosthetics, aesthetic dentistry, veneers
Lost teeth can be reconstructed with various prosthetic solutions, as well as the reconstruction of a single tooth's crown if it has been damaged (prosthetic crown, bridge).  Maintaining the full efficiency of the mouth's entire chewing system is extremely important for the psychological comfort of having full dentition and thus, maintaining a comfortable life. Prosthetic works are planned and designed individually for the specific needs of each patient. Porcelain veneers are a great solution to correct aesthetic imperfections such as tooth color, shape or setting in an arch. These are thin porcelain fronts glued to the face of the tooth, which is a quick and easy way to permanently lighten your teeth.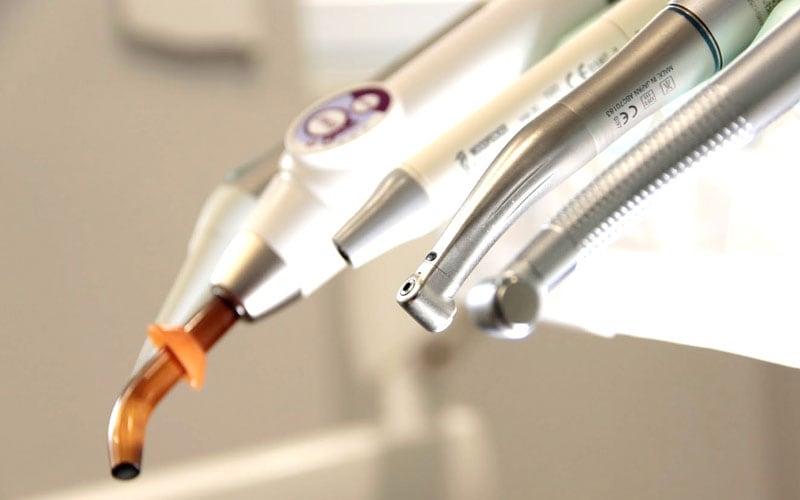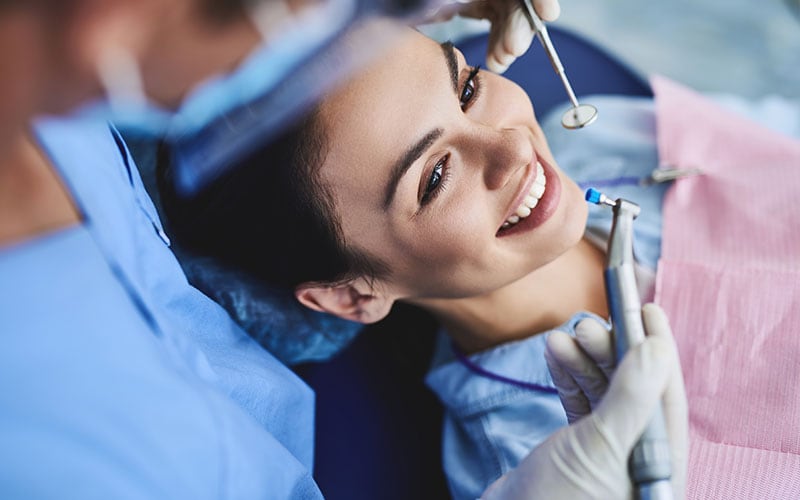 Everyday habits like drinking tea and black coffee, smoking cigarettes and dyes from the consumption of foods causes a gradual discolouration of teeth. Daily oral hygiene only removes minor, non-enamel stains. In order to remove those stains that have penetrated deeper into the enamel structure requires professional oral-hygiene procedures. At SLAVUS IDC WROCŁAW, we perform painless and proven teeth whitening treatments. Our whitening systems are 100% safe, do not damage the surface structure of the enamel and do not result in hypersensitivity. The brightening effect is long-lasting and visible immediately after the procedure.
Endodontics is a narrow specialisation in dentistry that deals with the treatment of the tooth's root canal, consisting of removing infected tooth pulp from the inside of the tooth, disinfecting the canals, a tight three-dimensional filling, as well as strengthening and reconstruction of the tooth's crown. At SALVUS IDC Dental Centre, we perform under microscope painless, reliable and single primary root canal treatments, restorative treatment on previously incorrectly treated teeth, difficult and complicated cases referred by other doctors, the extraction of broken tools and sealing perforations. Endodontics gives you the opportunity of preserving your infected and damaged teeth for many years to come.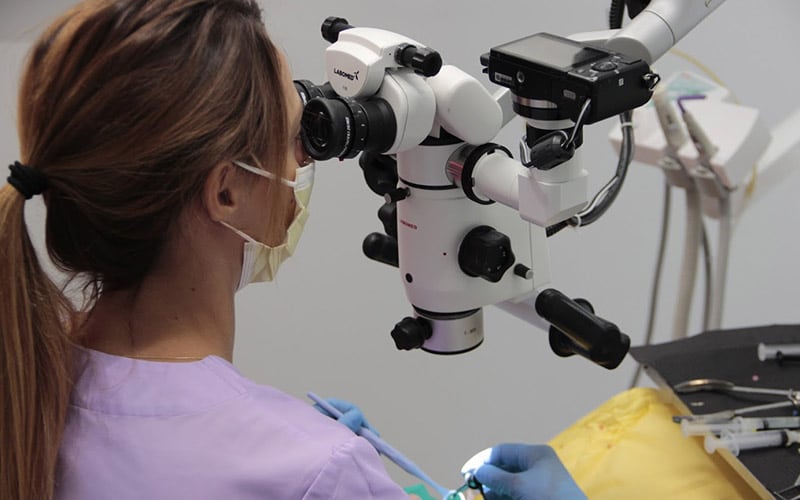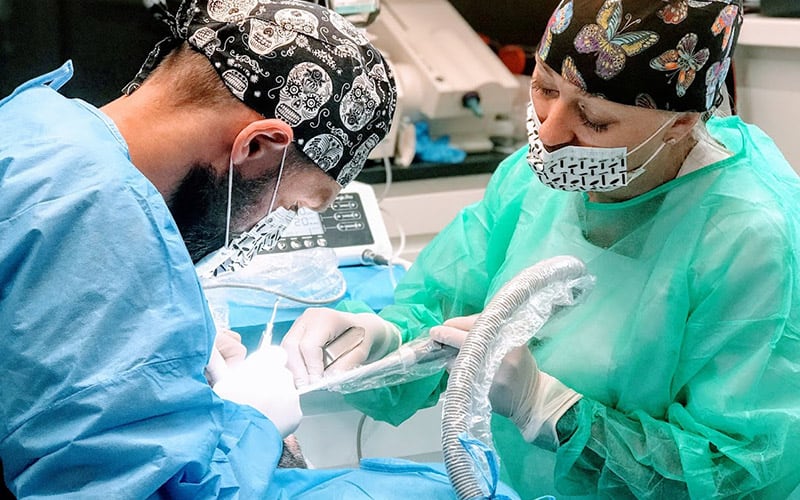 The SALVUS IDC Dental Centre specialises in dental surgery and we perform procedures with the principles of minimally invasive microsurgery, i.e. in an atraumatic and comfortable setting with minimal postoperative ailment. We offer our patients the removal of teeth – impacted teeth, wisdom teeth, root residues, and the completion of difficult extractions. We conduct a full treatment plan before carrying out any surgeries. We offer surgical treatment based on 3D planning. The use of digital technology enables our doctors to precisely image the tissue structure and accurately plan the entire procedure, resulting in a shorter overall procedure time.
Implants are a great solution for people who want to restore their comfort and confidence after losing teeth. At the SLAVUS IDC Wrocław Dental Centre, we offer implant treatment carried out by an experienced specialist in dental surgery. Our implants are the gold-standard in supplementing missing teeth and are a proven and safe solution to missing single teeth, several teeth as well as fully comprehensive prosthetic reconstruction in the case of toothlessness. (crown on the implant, bridge on implants, prosthesis on implants).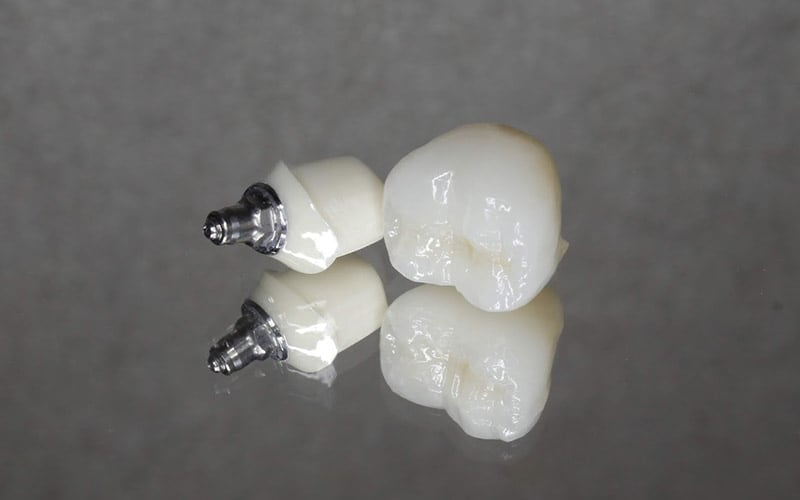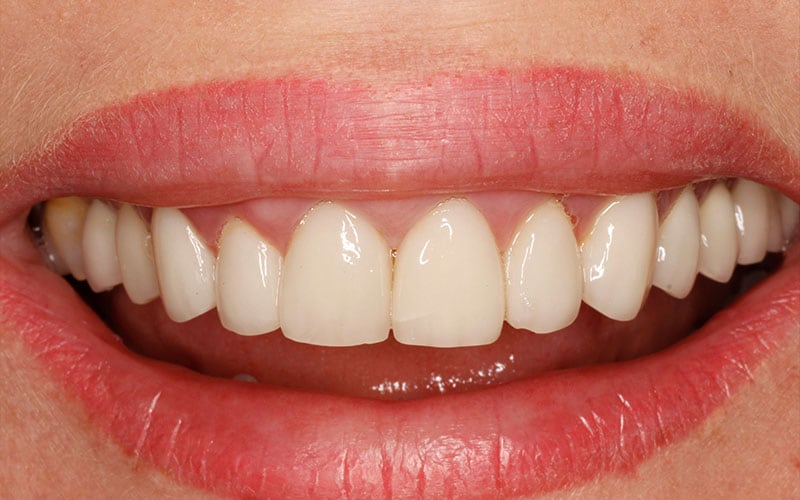 Our treatment plans are created according to individual needs in order to meet the aesthetic expectations of even the most demanding patients. Conventional dentistry, veneers, and prosthetic crowns allow you to recreate the natural shape and color of teeth, restoring comfort and confidence.
Orthodontics is a comprehensive field of dentistry that allows you to restore the harmony of your smile using fixed and mobile braces. In recent years, orthodontics has developed immensely in favor of improving the patient's comfort during the treatment period. Fixed appliances with aesthetic attachments (tooth-colored) or removable transparent braces (Invisalign, Clear aligner) are the perfect solution for people who require and care about their appearance.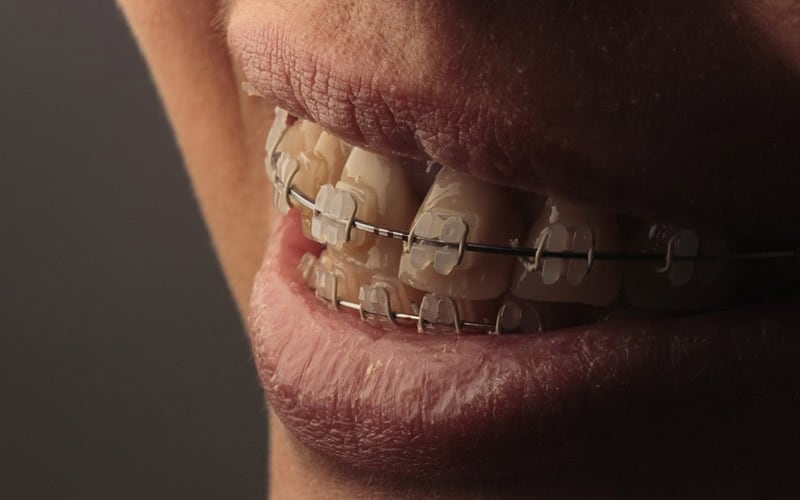 The SALVUS IDC Wrocław Dental Centre is a clinic in which experienced doctors, combined with the latest technologies, provide effective and quick dental care. At SALVUS IDC, we not only treat but, most importantly, listen to each patient and care for them as individuals during their treatment.
Offering services of the highest quality is as important to us as the safety and comfort of our patients. We are a prime example that your next visit to a dental clinic can be a pleasant, painless and positive experience.