Our specialists: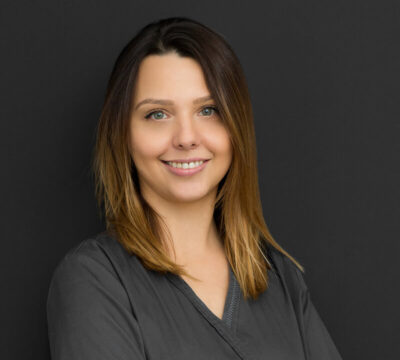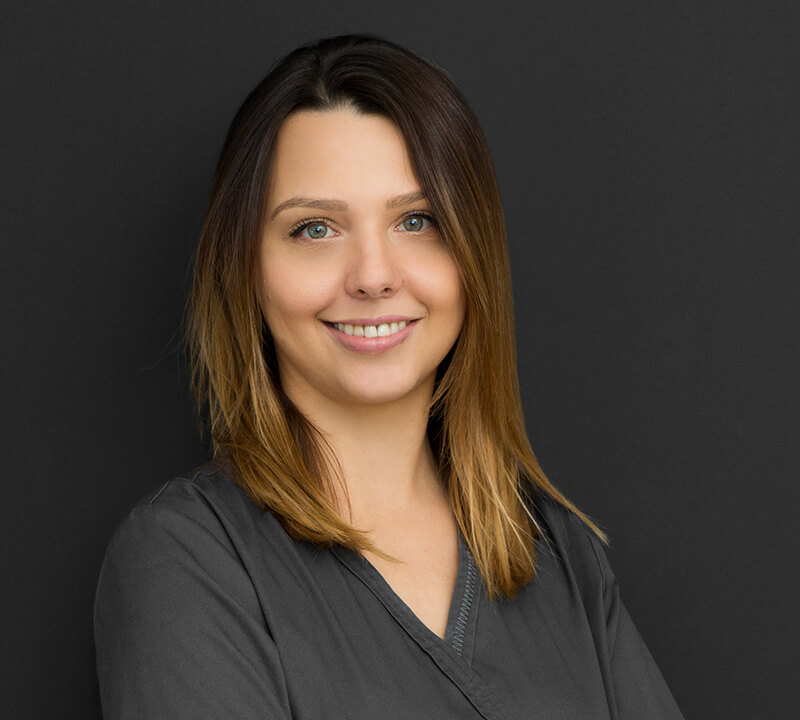 Lek. dent. Kamila Wróblewska
MICROSCOPIC ENDODONTICS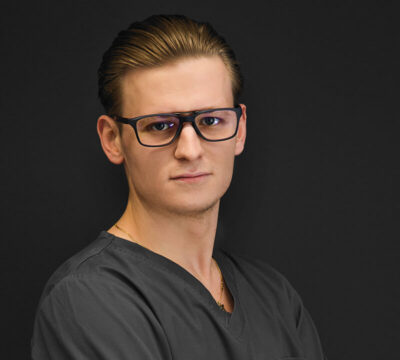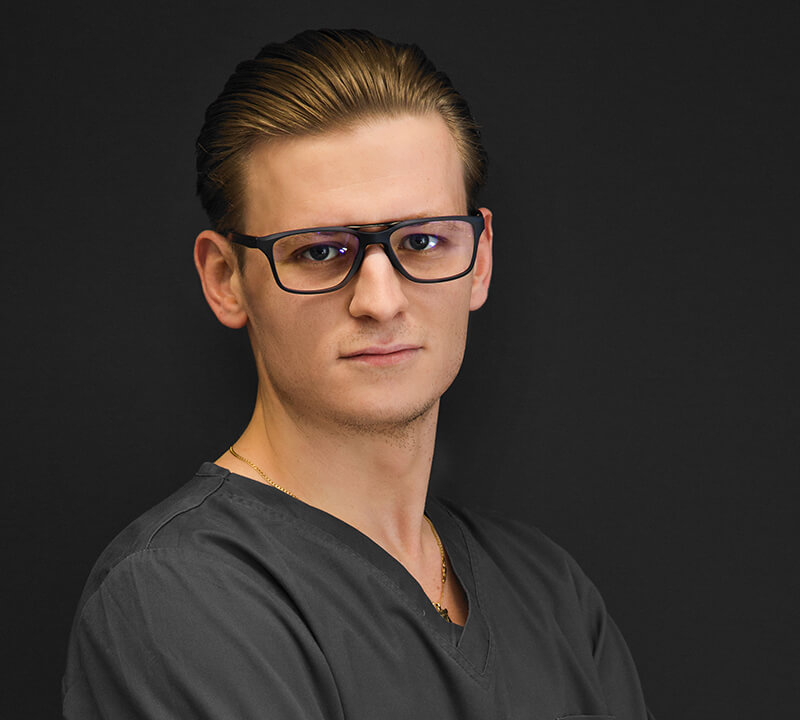 Lek. dent. Rafał Gratkowski
GENERAL DENTISTRY, MICROSCOPIC ENDODONTICS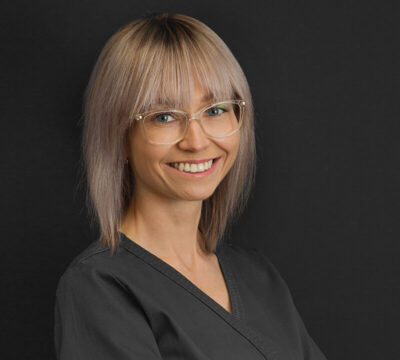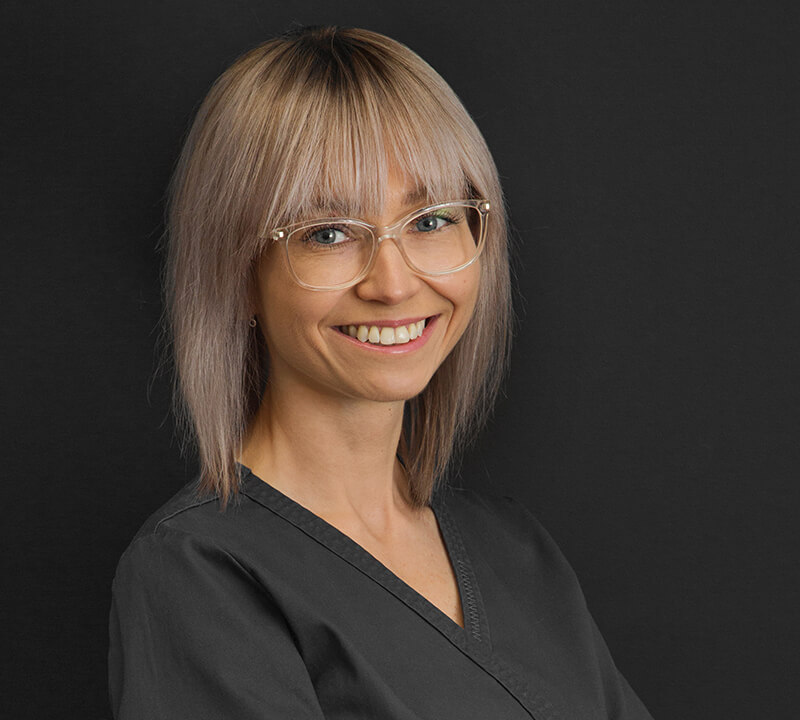 Lek. dent. Diana Popławska
GENERAL DENTISTRY, MICROSCOPIC ENDODONTICS, PROSTHETICS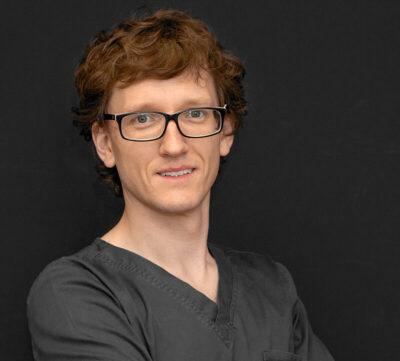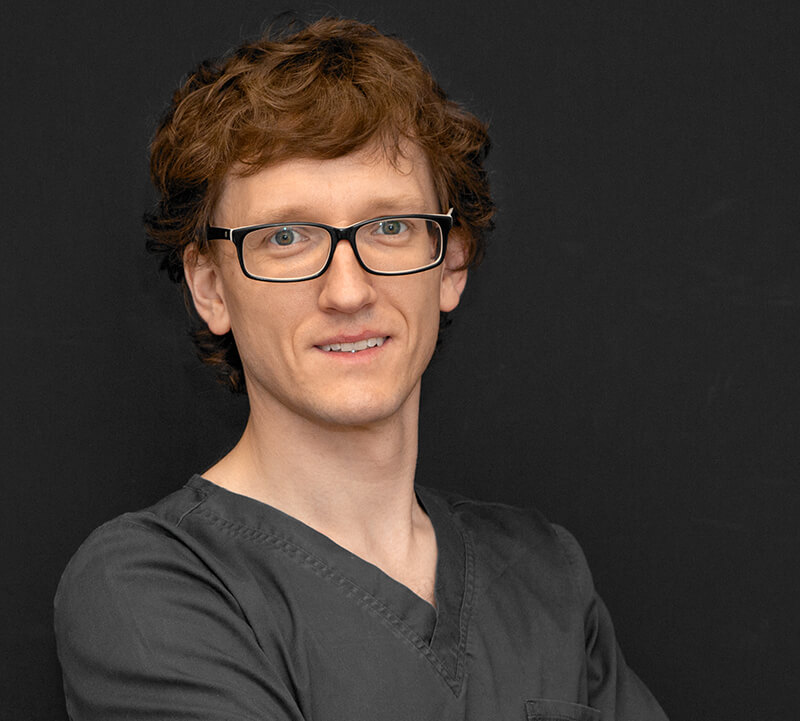 Lek. dent. Maciej Kurzyński
MICROSCOPIC ENDODONTICS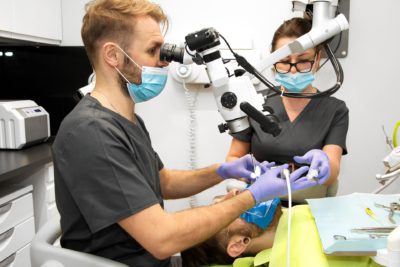 Endodontics is a branch of dentistry that deals with root canal treatment. Our center employs endodontists associated with PTE (Polish Endodontic Society) and ESE (European Society of Endodontology), which means that we use the latest technologies (working within a cofferdam, surgical microscope, thermoplastic methods of root canal filling, digital radiology).
The need for root canal treatment appears in patients who, as a result of advanced cavities, have become infected within the pulp inside the tooth. Pain most often indicates the development of irreversible inflammation, and the only effective form of treatment today is pulp removal. Endodontics is also useful when a tooth has been broken or cracked (with a breach of the pulp) – then endodontic treatment enables its prosthetic reconstruction.
What is root canal treatment?
Primary endodontic treatment should be performed whenever the pulp is infected. It may be manifested by pain and inflammatory periapical lesions on the X-ray image. Thanks to modern equipment and treatment techniques, the success of primary root canal treatment is 85-95%.
We perform revision of the root canal treatment (so-called re-endo) in the case of unsuccessful attempts at root canal treatment in the past, unsealing of the tooth reconstruction and re-infection of the root canal system, or before prosthetic treatment. In this case, the treatment success is achieved in 75-85% of cases, and the alternative to these activities is tooth extraction.
The success of treatment consists of:
Very accurate diagnostics – digital X-ray, computed tomography,
Finding all channels – searching for them using a surgical microscope,
Correct processing – nickel-titanium machine tools,
Complete disinfection – rinsing with ultrasound and an EndoActivator device
Three-dimensional filling – thermoplastic gutta-percha,
Tight reconstruction – prosthetic reconstruction, because often regular filling does not guarantee sufficient tightness
Does root canal treatment hurt?
The course of endodontic treatment may raise some concerns. Patients often worry about root canal treatment being painful – it happens that fear causes endodontics to be abandoned in favor of tooth extraction. Anxiety is completely unnecessary – the use of modern technologies allows us to reduce pain during the procedure. Before starting the procedure, we give the patient anesthesia, which excludes the risk of pain.
If possible, we recommend treatment instead of extraction. After tooth extraction, the patient should reconstruct the missing tooth using implants, which puts him under additional stress. Failure to rebuild the removed tooth may lead to the atrophy of the alveolar bone, mobility of the remaining teeth and other serious consequences. Endodontics is safe and patient-friendly.
How much does root canal treatment cost?
The amount of root canal treatment is mainly influenced by the number of tooth roots. In the case of single-root teeth, the cost will be lower than for the treatment of six, which may have up to four root canals. The price of the procedure also depends on the method used – endodontics under a microscope is more expensive, but at the same time more effective. Tooth preservation is still a cheaper solution than its removal and restoration with a bridge or implant.
The total cost of treatment should include a consultation visit and tooth restoration for treatment, and possibly a tomograph in more difficult cases. All anesthesia and X-ray pictures during treatment – regardless of the number – are free of charge. The control of the correctness of treatment and the patient's comfort are the most important to us!
Price list
Microscopic endodontics
Endodontic consultation, tooth verification
Intervention visit. Tooth opening, pain relief
Preparation and reconstruction of a tooth for root canal treatment
Root canal treatment using a microscope
Strengthening the tooth with an inlay after root canal treatment
Tooth reconstruction after root canal treatment.
Additional procedures during root canal treatment
Removal of the insert, closing the perforation, removing instruments from previous treatments